John Ritenour's Achievements and Awards
From innovating his own business in the insurance industry to sponsoring philanthropic projects in his community, John Ritenour has made a lot of accomplishments over the years –– and his work hasn't gone unnoticed. Below are some of John Ritenour's proudest achievements, accolades, and honors.
Business Achievement Award
Nearly two decades after founding IOA, John Ritenour became the seventh recipient of the Success Award for Business Achievement. Granted by Success Magazine, the Business Achievement Award recognizes professionals in Seminole County that achieve prosperity in their careers and use their success to make a difference within the community.
As he earned the award from Success Magazine, he also earned a spot on the cover and a full-page spread inside that same edition. In his interview with Success Magazine, Ritenour talks about his philosophy on growing a business, contributing to his community, and maintaining a positive work environment for his employees.
He also gets candid about his experience growing up in a low-income area, which, he says, is why he has "a heart for charitable causes." Ritenour explains how his upbringing played a huge role in his decision to not only strive for excellence in his profession but also give back to organizations that support those in need.
Entrepreneur of the Year Award
Within the same year of receiving the Business Achievement Award, John Ritenour was nominated for the Dynetech/Crummer Entrepreneur of the Year Award. Co-sponsored by the Rollins College Crummer Graduate School of Business and Dynetech Corp., the award recognized entrepreneurial achievements by business owners in the Central Florida area.
The Entrepreneur of the Year Award was split into two categories. One award went to an entrepreneur with a company that earned between $5 million and $50 million in annual revenue and one award — for which John Ritenour was nominated — went to an entrepreneur with a company that had an annual revenue exceeding $50 million.
John Ritenour stood alongside 12 other candidates for the award and was selected as a nominee because of his notable dedication to leading the team at Insurance Office of America (IOA). He grew IOA into a nationwide, 550-employee entity that was — at the time — earning over $60 million annually.
Symetra Tour's Eloise Trainor Award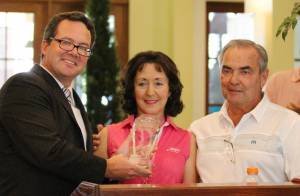 In 2016, John Ritenour was once again recognized in his community — but this time, it was alongside his wife Valli. The Ritenour's received the Symetra Tour's Eloise Trainor Award, an honor for those that show extensive support to female athletes in professional golf.
Presented to the Ritenours by the chief business officer of the Symetra Tour – Road to the LPGA, Mike Nichols, the award is given in memory of Eloise Trainor. Trainor was the founder of the Symetra Tour, which John and Valli Ritenour supported, sponsored, and largely contributed to for many years.
For their especially significant support of the tour in the wake of Hurricane Matthew, John and Valli proudly accepted the award during the Making Strides Against Breast Cancer Brunch, which was hosted by the Alaqua Country Club.